Album Hammer Hubert "message for you" Released 15. April 2021
Aktuell auf allen Downloadportalen erhältlich - auf CD direkt über den Verlag www.roegelsnap.de Label & Verlag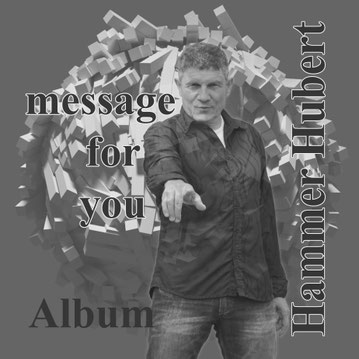 Jetzt auf allen Downloadportalen im Handel
Hammer Hubert - "Message for you"
Nun ist es vollständig released mit allen 10 Titeln:

01-Storm  
02-Message For You
03-Blink of an Eye     
04-Kling Kleng Manu with Guitar                                               
05-How many Stars                                     
06-Rock the sky

07-Our Song is fading out
08-Father´s Guitar
09-Ey Wat Isn
10-Chill the Sky Obsession

Message for you:
Schicke eine Nachricht an diejenigen, die an Dich glauben.
Vertraue nicht den Mächtigen, die dem Bauern nur noch erlauben, eine bestimmte Saat anzubauen.
Vielen Dank an: Tommy, Elfchen, Ronny Hahn, Manu Lücht, Robert Schmidt, Thilo Weber, meine Nachbarn (äh - das ist jetzt keine Band).
Hammer Hubert ist vertreten und auch erhältlich über Roegelsnap Label & Verlag
Downloads gibt es auf den den Downloadportalen:
Juke
Amazon
Musicload
iTunes
Napster
Play.google.com
Music.telekom
Junodownload
Und weiteren 7500 Downloadportalen weltweit.